Michelin Pilot Sport 4 S Tyres Available in Worcester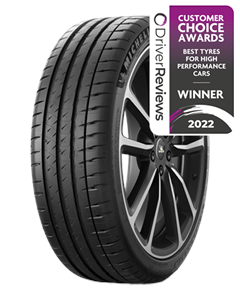 ---
Pilot Sport 4 S
More information
The maximum combined performance
1st in (the largest number of) essential performances:
1st in DRY braking 1
1st in WET braking 1
1st in DRY laptime 1
1st in longevity 2
and excellent results on wet roads.
The best of the Michelin Pilot Super Sport tyre further enhanced by Michelin Pilot Sport Cup 2 tyre experience.
High Level of Reactivity
Ultra-reactive tread pattern design, adapts continously to the road, for optimized footprint on the road.
Excellent Steering Control
"Dynamic response" technology: a hybrid belt of aramid and nylon ensures optimum transmission of steering instructions onto the road.
Exceptional Dry Grip And Improvement Of Wet Breaking
Bi-Compound Technology:
Outer side: a novel hybrid elastomer for Dry grip.
Inner side: new mix of compound with specific "functional elastomers" and silica provides excellent Wet grip and braking.
Premium Touch Finish
Velvet effect creates a variety of black contrasts on the outside sidewall.
Deep Rim Protector
A protection for all kind of wheels.
A genuine crafting process
A high-precision manufacturing process combined with unique know-how developed by Michelin experts.
Premium design and rim protector
Premium touch finish providing a velvet effect on the external sidewall.
A deep rim protector.
Acclaimed by car makers
Homologated by car makes MERCEDES-AMG and FERRARI.
New vehicles are equiped with the new MICHELIN Pilot Sport 4S tyre:
FERRARI GTC4 LUSSO 2016
MERCEDES AMG E-Class E63 2017 and E43 2017
---